Tuesday, April 12, 2011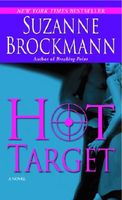 Title : Hot Target
Author :
Suzanne Brockmann,
Condition :9/10
Status : reserved for Florence
From The back Cover:
Unwillingly facing a month's leave from the Navy SEALs, Cosmo Richter offers his- services to Troubleshooters Incorporated, a private-sector security firm. Richter's first case, surrounding a Hollywood film by the maverick movie producer Jane Mercedes Chadwick, develops quickly. Jane's portrayal of a real-life hero's homosexuality has roused a storm of media buzz and the fury of extremist groups. The film's subject matter hits home for FBI agent Jules Cassidy, who's struggling with an ex-lover while fighting a growing attraction to Jane's brother. Then danger on the set escalates when angry e-mails become death threats. Though Jane resists the Troubleshooters' protection, she hasn't counted on the tight bond she forms with the quiet, capable Cosmo Richter. And when all hell erupts, desire and desperate choices will collide on a killing ground that may trap them both in the crossfire.
0 Comments: